About Mt. Fuji | Exploring Japan's Legendary Volcano
Contents
Quick Facts about Mount Fuji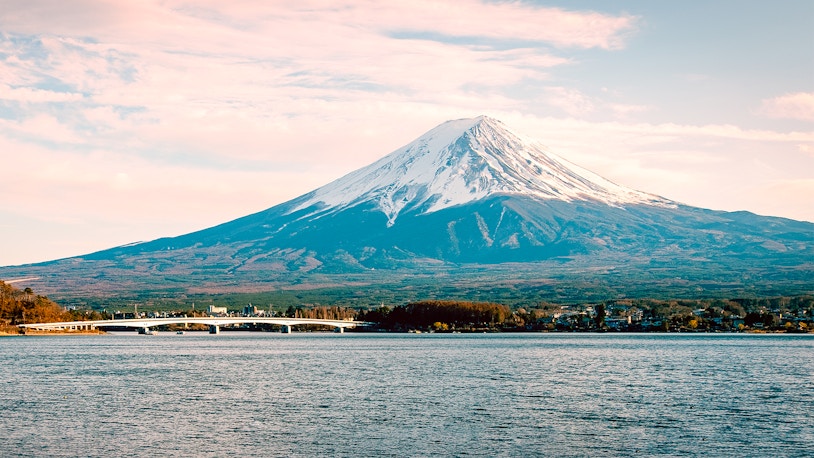 Official name: Mount Fuji (Fujisan in Japanese)
Location/Address: Located in Tokyo, Japan
Timings: The timing to Mt. Fuji summit trails depend on the season and the trail being used. Generally, the last entry for the Yoshida Trail is at 9:00 AM and for the Subashiri and Gotemba Trails, it is at 10:00 AM. For the descent, visitors are required to start descending from the summit by 2:00 PM to ensure a safe descent before sunset.
UNESCO World Heritage Site: Recognized as a UNESCO World Heritage site in 2013 for its cultural significance and natural beauty.
Number of visitors per year: Millions of visitors come to Mount Fuji every year.
Function: A sacred symbol of Japan, visitors can climb the mountain, visit the lakes and hot springs, and enjoy the stunning scenery.
Plan Your Visit To Mt. Fuji
Mt. Fuji Location
Best Time to Visit Mt. Fuji
Other Relevant Information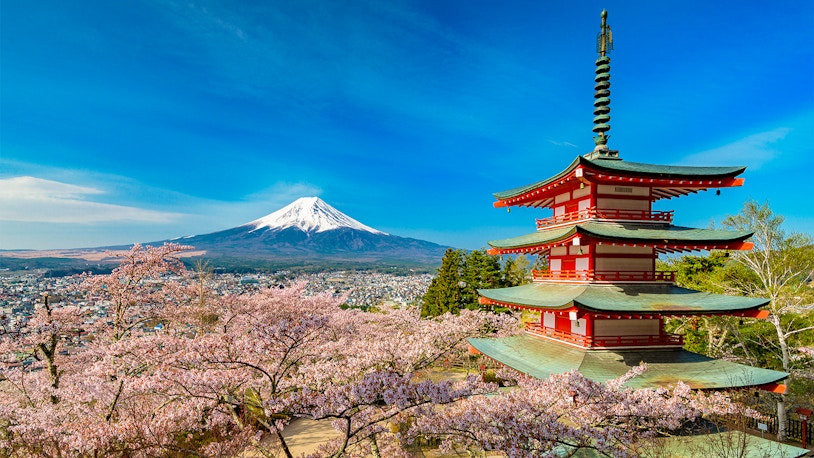 Address:
Mount Fuji, Kitayama, Fujinomiya, Shizuoka 418-0112, Japan. Find on maps here.
Located in the prefectures of Shizuoka and Yamanashi in Japan, Mount Fuji is situated approximately 100 kilometers southwest of Tokyo. 
Nearby landmarks include the lakes of the Fuji Five Lakes region and the hot springs of Hakone.
Plan Your Visit to Mt. Fuji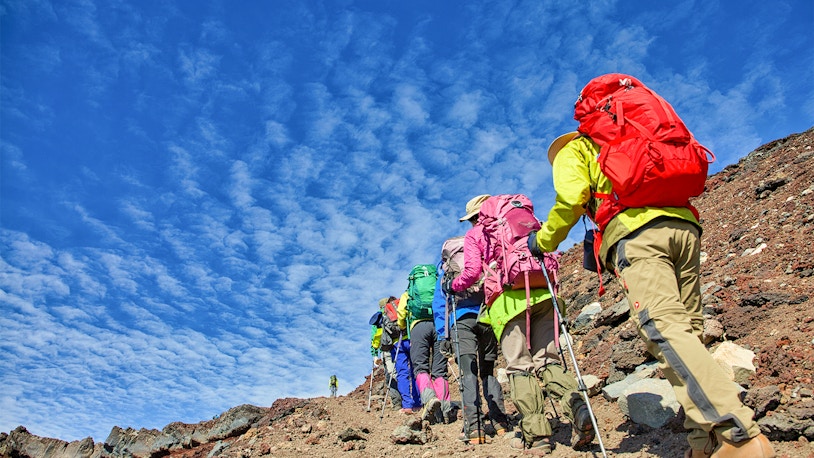 Visitors can visit Mount Fuji throughout the year, but the climbing season is from July to September.
Climbing can often start in the early hours of the morning to reach the summit in time for sunrise.
It is important to check weather and trail conditions before planning a climb.
Some sections of the mountain may be closed due to volcanic activity.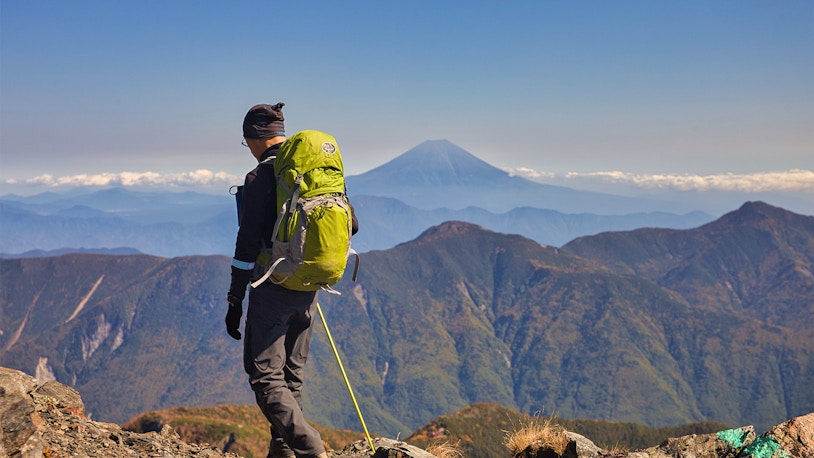 Climbing Mt. Fuji requires a certain level of fitness and preparation, so it is important to research and plan accordingly.
The mountain has 4 main trails for climbing, with different starting points and varying levels of difficulty.
There are also several tour companies that offer guided climbs and other activities in the area.
For those who do not wish to climb, there are many other ways to enjoy the beauty of Mt. Fuji, such as visiting the surrounding lakes and hot springs, or taking a scenic drive through the area.
The best time to visit Mt. Fuji is during the climbing season from July to September, however, this is also the busiest time. For a quieter experience, consider visiting during the off-season.
Things to Do at Mt. Fuji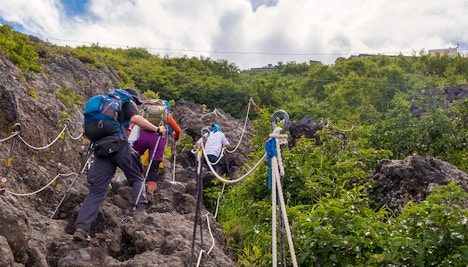 Climbing Mt. Fuji
One of the biggest attractions of Mt. Fuji is it's challenging climb. Adventure seekers from all over the world come here to climb the mountain and witness the stunning sunrise from its peak. There are four main climbing trails, each with varying difficulty levels. Climbing requires preparation and physical fitness, but the view from the top makes it worth it.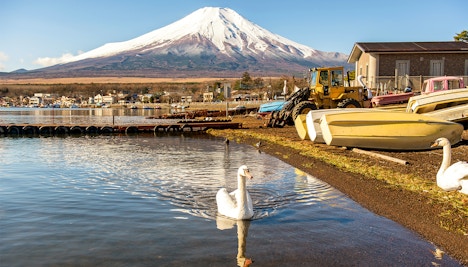 Visit the Fuji Five Lakes
The Fuji Five Lakes region is a beautiful area surrounding Mt. Fuji. The five lakes, including Lake Kawaguchi, offer stunning views of the mountain and make for a perfect spot for a leisurely picnic or a romantic getaway. Visitors can explore the lakes by renting a bicycle or taking a boat ride. There are also many hot springs in the area that allow visitors to relax and unwind.
Fuji Five Lakes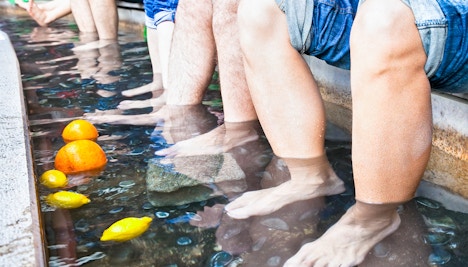 Explore Hakone
Hakone is a nearby town famous for its hot springs, traditional inns, and museums. Visitors can take a scenic drive through the town, soak in the hot springs, or explore the various museums and galleries. The Hakone Open-Air Museum is a must-visit for art lovers, featuring an impressive collection of Western and Japanese sculptures and installations.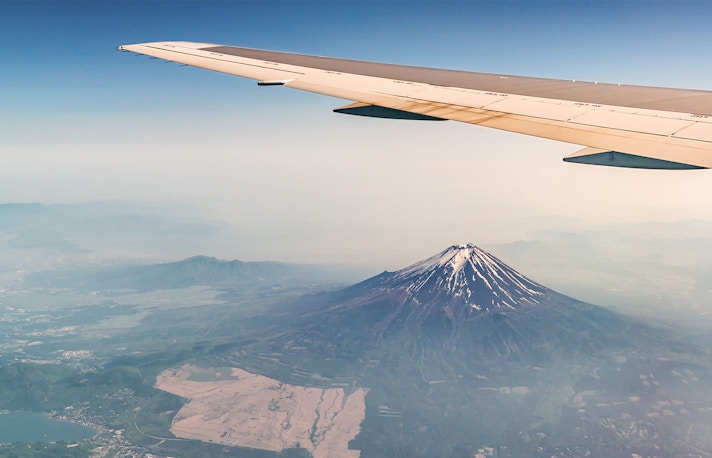 Take a Scenic Flight
For an unparalleled view of Mt. Fuji, visitors can take a scenic flight that departs from the nearby Shimizu airport. The flight lasts around 30 minutes and offers breathtaking views of the mountain and surrounding areas.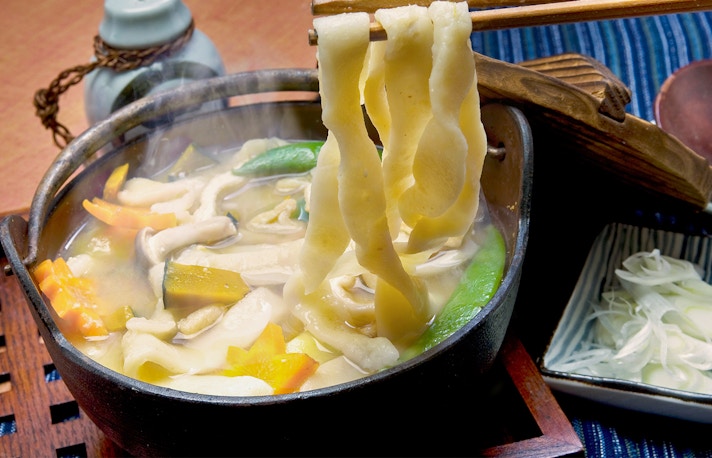 Enjoy the Local Cuisine
The surrounding areas of Mt. Fuji are known for their delicious cuisine. Visitors can try local delicacies such as Hoto noodles, a type of thick noodle soup, or Fujinomiya yakisoba, a stir-fried noodle dish. The area is also known for its fresh seafood, including sashimi and grilled fish.
Mt. Fuji Restaurants
Frequently Asked Questions About Mt. Fuji
Q. What makes Mount Fuji so special?
Mount Fuji is an iconic symbol of Japan, known for its perfect cone shape, breathtaking beauty, and rich cultural significance. It offers a unique blend of natural wonders and spiritual allure.
Q. How tall is Mount Fuji?
Mount Fuji stands proudly at a majestic height of 3,776 meters (12,389 feet), making it the highest peak in Japan. 
Q. Can I climb Mount Fuji?
Yes, Mount Fuji is a popular destination for climbers. The official climbing season is from early July to mid-September, providing the best conditions for ascending to the summit and enjoying panoramic views.
Q. How long does it take to climb Mount Fuji?
The climb typically takes 6 to 8 hours to reach the summit and 3 to 4 hours to descend. However, it's important to plan and pace yourself according to your fitness level and weather conditions.
Q. Is it necessary to have prior climbing experience?
While prior climbing experience is not mandatory, a reasonable level of physical fitness and preparation is recommended. It's essential to understand the challenges and come prepared with proper equipment.
Q. What are the best viewing spots for Mount Fuji?
Some popular viewing spots near Mount Fuji include Lake Kawaguchi, Chureito Pagoda, and the Fuji Five Lakes region. Each offers unique perspectives and picturesque settings to admire the mountain's beauty.
Q. Can I visit Mount Fuji during the winter season?
Yes, you can visit Mount Fuji during the winter, but climbing to the summit is not recommended due to extreme weather conditions. However, you can still enjoy the surrounding areas and breathtaking scenery.
Q. Are there any cultural festivals or events at Mount Fuji?
Yes, Mount Fuji is host to various cultural festivals and events throughout the year. The Fuji Shibazakura Festival and the FujiYoshida Fire Festival are particularly popular, offering a glimpse into the local traditions.
Q. Can I visit Mount Fuji on a day trip from Tokyo?
Yes, it is possible to visit Mount Fuji on a day trip from Tokyo. There are many guided day trips that allow you to explore the mountain, visit nearby attractions, and return to Tokyo in the evening.
Q. Is it safe to visit Mount Fuji?
Yes, Mount Fuji is generally safe for visitors. However, it's important to follow safety guidelines, especially during the climbing season. Stay updated on weather conditions, dress appropriately, and listen to the instructions of experienced guides or authorities.